Trusted by India's leading brands
Scale-up your Business
with Easebuzz Payment Solutions Platform
About FeesBuzz Online Fees Management System
FeesBuzz is an Online Fees Management System to help educational institutes manage online fee payments, auto-generates receipts, send reminders for the online fee payment, track and report fees payment status, etc. Now for fees payment, parents don't need to deposit school or college fees through a Cheque, Demand Draft, Challan or Cash. They can now pay school fee amounts safely using online school fees payment system and opt for payment options such as Net Banking, Debit Card, Credit Card, e- wallet or UPI. Collecting and managing student fees payment will not be a laborious task anymore. With our easy to integrate Online Fees Portal, educational institutions can effortlessly manage and maintain the student online fees payment.
Streamline Online Fees Collection Process with FeesBuzz
FeesBuzz is an online fee payment software that makes it easier for schools and colleges to manage their fees collection and also helps parents to lower the risk of theft or loss of cash. It is easy to use and reduces data security risks with online fee payment as the SaaS based API is PCI DSS compliant making it reliable and safe for transactions.
Wondering How FeesBuzz Dashboard Looks ?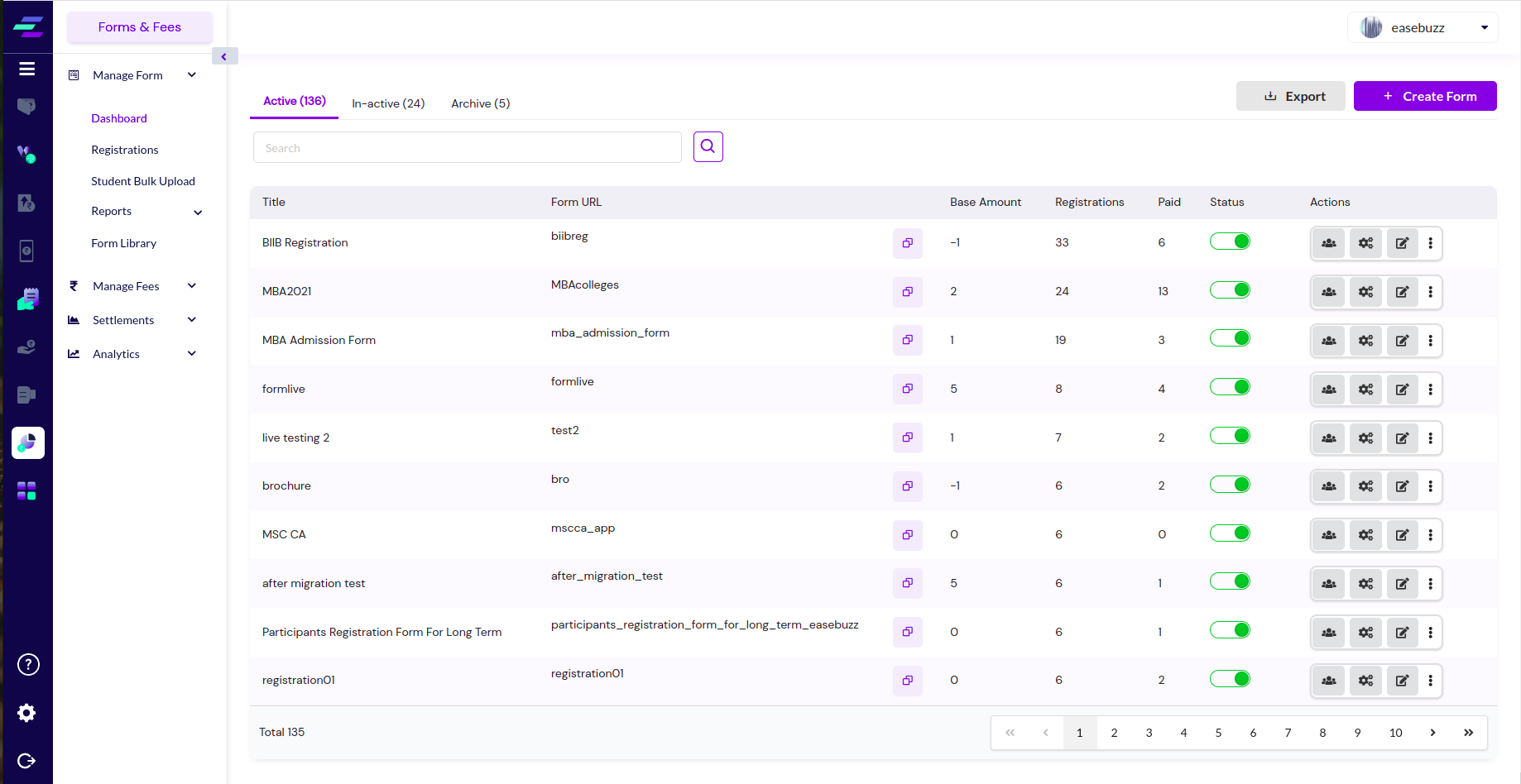 Benefit of Online Fee Management System for Educational Institutions
Saves time spent in collecting, handling, processing and tracking of fees payments

Reduces the scope of late online fee payments

Increases operational efficiency

Online fees is easily traceable

Reduces Data Security Risk while fees collection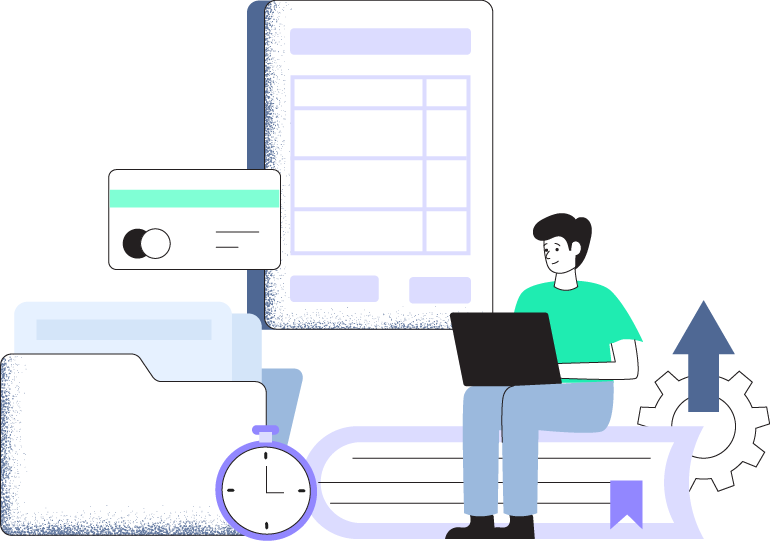 How does the Fees management system work?
Institute sign up - You register on https://auth.easebuzz.in/easebuzz/signup with your email ID and password.

KYC Verification - Enter your institute details along with KYC documents, a bank proof and a PAN card.

Start collecting fees - Post that, we will install the fees portal over your domain or website for students to pay.
How Feezbuzz Benefits Students and Parents?
Transparent and reliable fees payment system

Accessible anywhere 24x7

Maintain a complete record of online fee payment transactions

Avoid standing in long queues for fees payment, admission or other administrational procedures

Easy to use and convenient online school fees payment system

Lowers risk of theft or loss of cash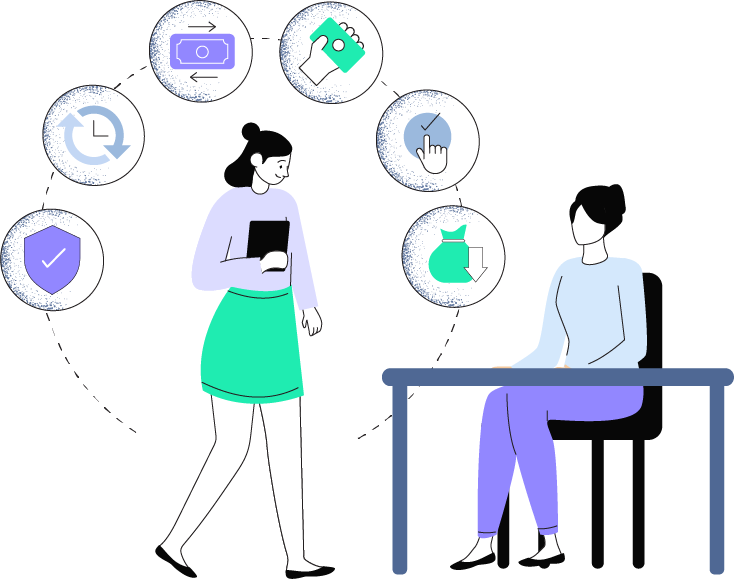 Now automate online fees scheduling, collection & reporting process. Explore the FeesBuzz Fees ERP System
An end-to-end Fees management partner for your educational institutes
Sign Up Now !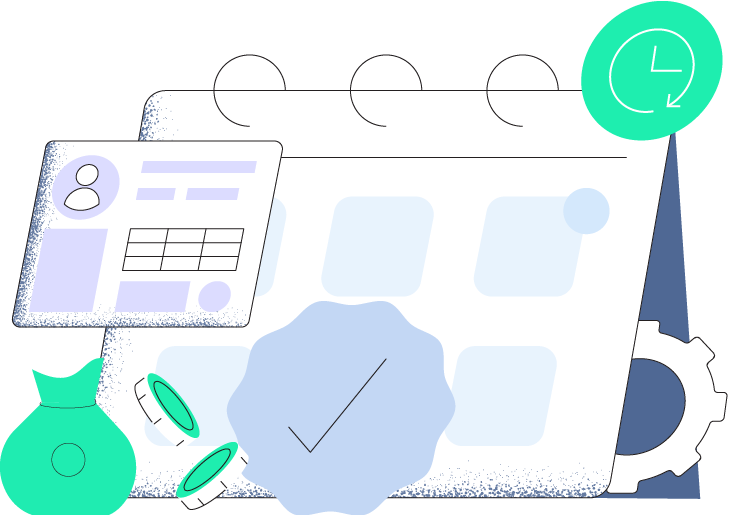 Integrate with Tally for seamless accounting.
Tally Integration makes it possible to automate payment entry. Tally will sync transaction details and student details as students pay fees to institutions on Feesbuzz.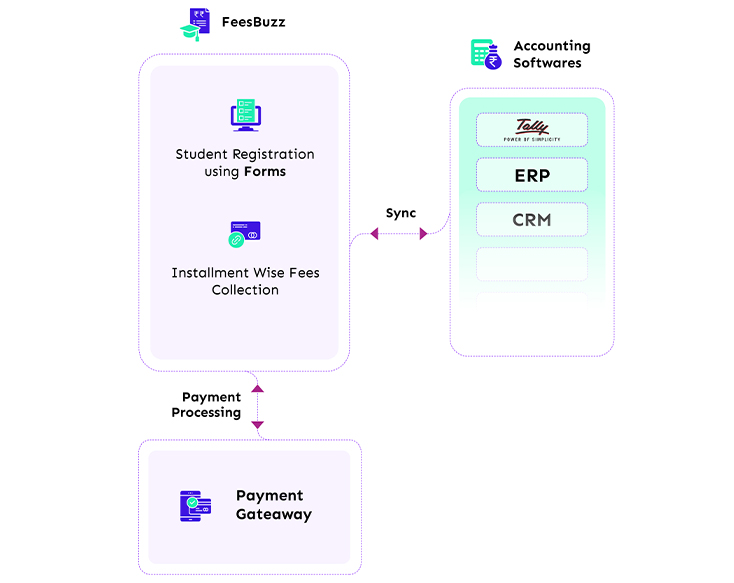 Watch our Fees Managemment System Video to see Easebuzz in Action
Bursting with the answers to your curious questions
Get In Touch
A seamless online fee payment Integration process
We let you choose preferred mode of integration
Use our APIs within your own ERP, CRM or software solution to start in a matter-of-minutes.
No website? No problem. You can still use our online fee payment solution with ease.
Learn more
Why Choose Easebuzz
100% Transparency with Data Backup and Synchronization

Consolidated Reports & Notifications that help the educational institutes track ROI

Integrated online fee payment portal

Easy-to-install & scalable solution

User-friendly and secure

Helps you get rid of those bulky files and paper to store the details of each student
Have a question for us or looking for a demo?
Clear all your doubts & Start growing your business today
Contact Us
Our Most Popular Payment Solutions
Frequently Asked Questions