What is UPI payment link?
A UPI payment link is a digital mechanism allowing merchants to gather payments via a link. Consumers can use UPI apps, net banking, wallets, and more to make payments. By sharing the link with customers, they can choose their preferred payment mode, simplifying the transaction process.
Payment collection for Indian businesses: The impact of UPI payment links
The advent of UPI payment links has brought about a paradigm shift, particularly for small and medium-sized businesses (SMBs) across India. This innovation has redefined the landscape of payment collection, rendering the process significantly more streamlined, expedient, and user-friendly.
In essence, UPI payment links serve as cutting-edge digital payment mechanisms. Merchants harness the power of these links to facilitate seamless payment collection, allowing customers to pay via a plethora of avenues, including UPI apps, net banking, wallets, and various other modes. The surge in popularity of UPI payment links can be directly attributed to the concerted efforts by the Indian government to propel the nation towards a digital economy, with the overarching objective of rendering transactions cashless and frictionless.
Unlocking the benefits of UPI payment links for effortless transactions
UPI payment links stand out among the array of payment collection methods due to their user-friendly nature and minimal technical prerequisites, making them a favored choice among Indian SMBs.
Empowering businesses UPI payment links can be effortlessly created and shared with customers through diverse communication channels, including SMS, email, and various social media platforms. This versatile approach caters to many customers, ensuring seamless transactions.

Customers in turn, relish the freedom to complete payments using their preferred methods, further enhancing the convenience of UPI payment links.

The security and efficiency of payment collection have also witnessed a significant boost with the advent of UPI payment links. Eradicating concerns linked to cash handling, such as theft or loss, adds an extra layer of reassurance.

Transparency maintains supremacy throughout the transaction journey as we meticulously document the entire process, ensuring all stakeholders understand the transaction status.

UPI payment links have democratized business reach in an era of expanding horizons. This innovation facilitates SMBs in connecting with customers from every corner of India, transcending geographical limitations.
Furthermore, the remote payment collection capability brings liberation from the constraints of physical presence, revolutionising the operational landscape for businesses.
In a nutshell, UPI payment links usher in an era of convenience, security, and growth, becoming a driving force behind transforming transaction experiences.
Effortlessly generate UPI payment links using our dedicated UPI payment link generator
Creating UPI payment links has always been challenging, thanks to our streamlined process. Follow these steps to create and share UPI payment links with your customers, enabling them to choose from a variety of payment methods for instant transactions:
1. Sign up : Begin by visiting the Easebuzz website and creating an account through the sign-up process.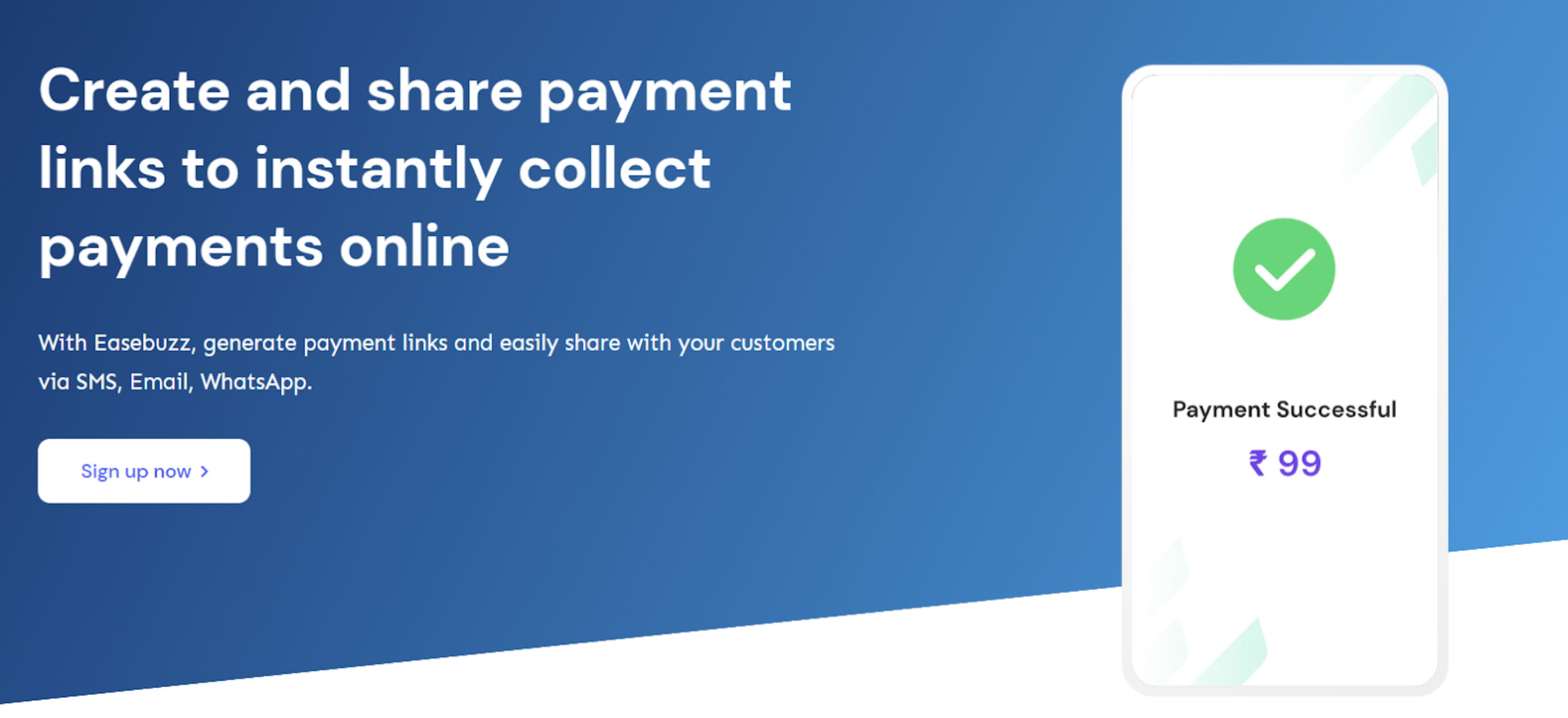 2. Access the Link Generator : Once you've logged in, locate the 'Create Payment Link' button on the dashboard and click on it.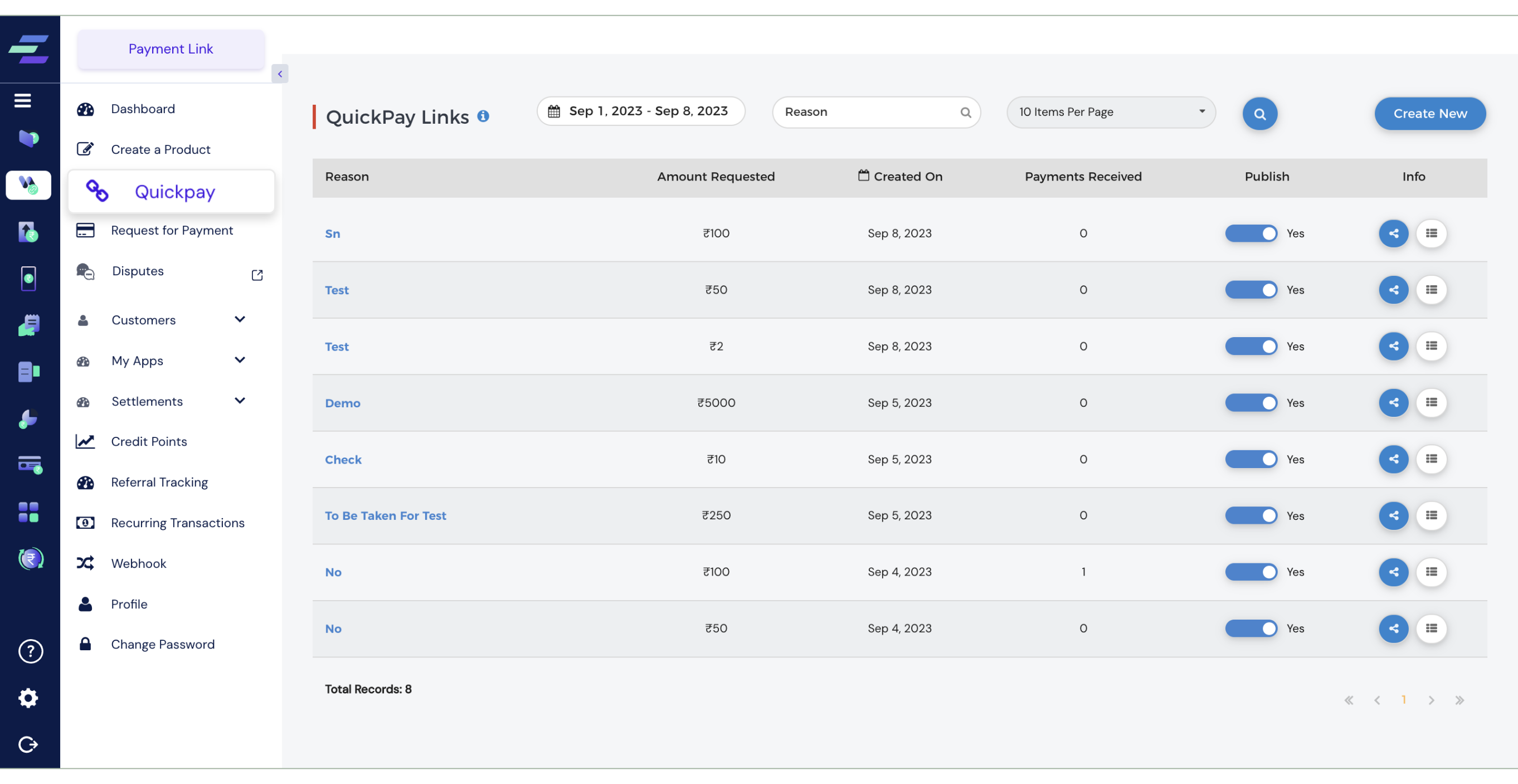 3. Select Quick pay : Choose the "Quickpay" option for creating your UPI payment link. Click on "Create new" to proceed.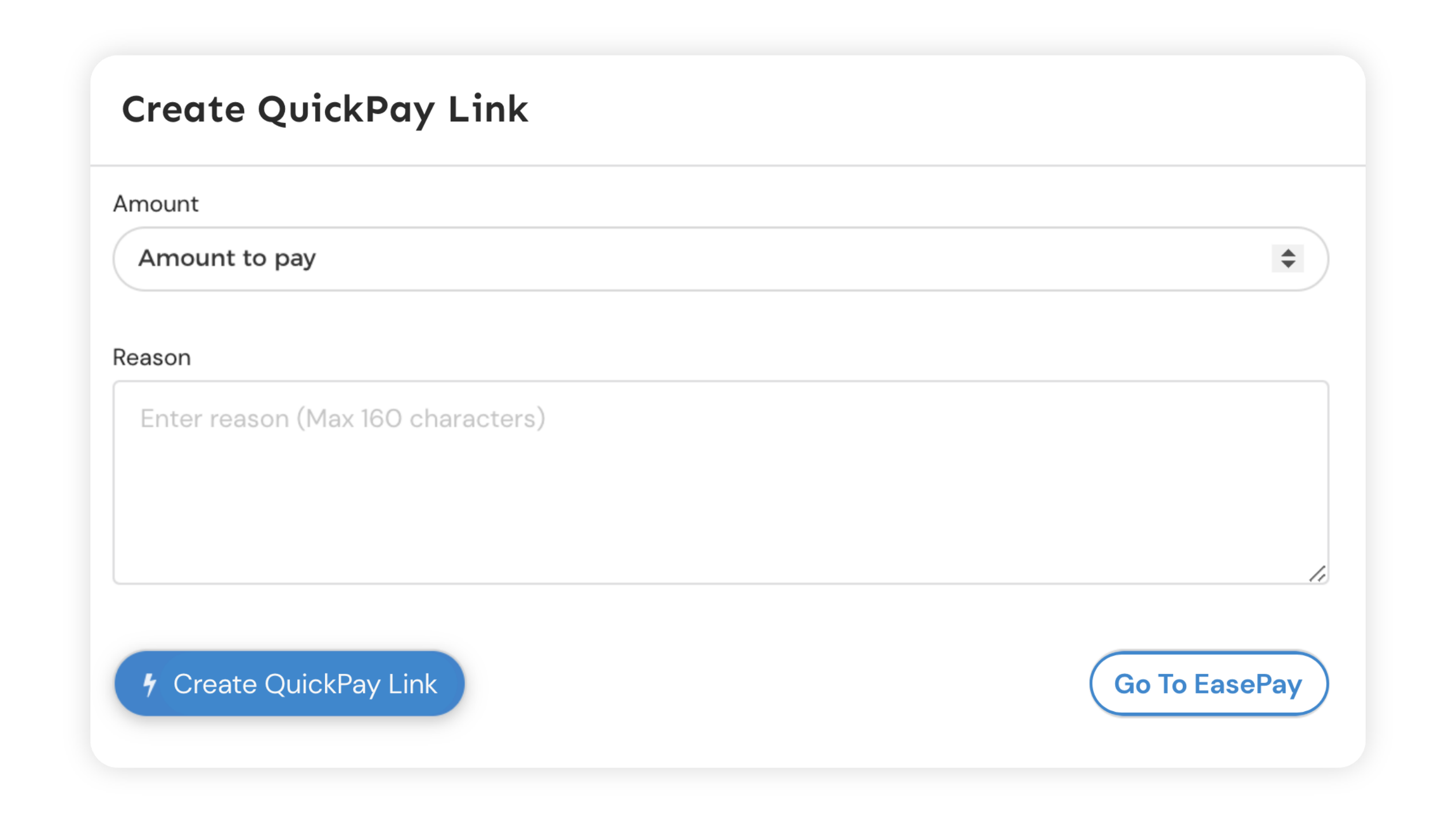 4. Provide Necessary Information : On the UPI payment link creation page, fill in the essential details, including the collection amount, customer's mobile number, and email address, and opt for recurring payment if needed. Feel free to add any relevant reasons or additional details.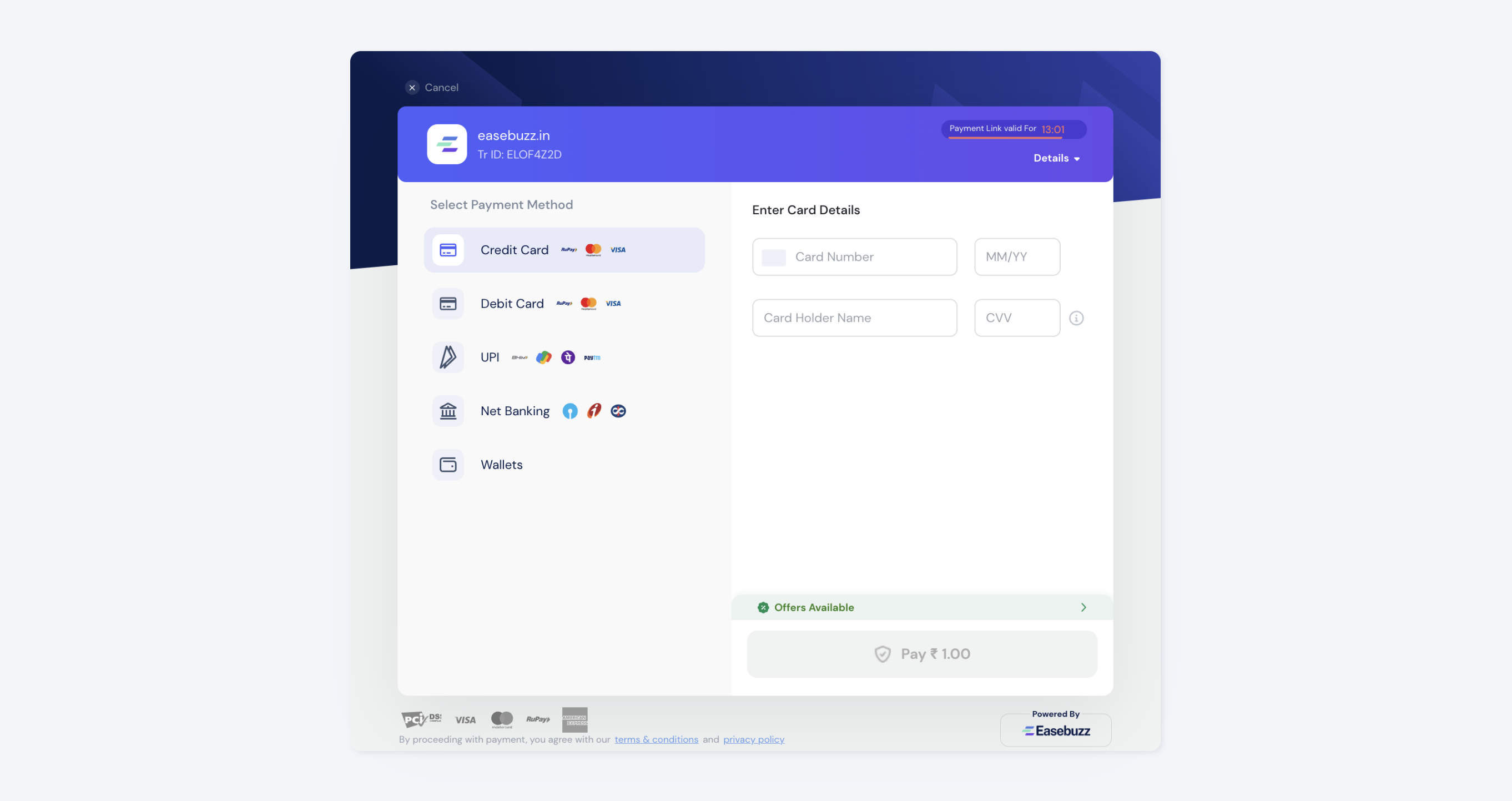 5. Generate and share : Copy the generated payment link and share it with your customers via email, WhatsApp, or SMS.
6. Customer experience : Customers who click the UPI payment link will be seamlessly redirected to the payment gateway page. Here, they can finalize the payment using their preferred UPI app.
7. Confirmation and management : Once you complete the payment, your Easebuzz dashboard will notify you, allowing you to conveniently track the payment status and access the transaction details for your records.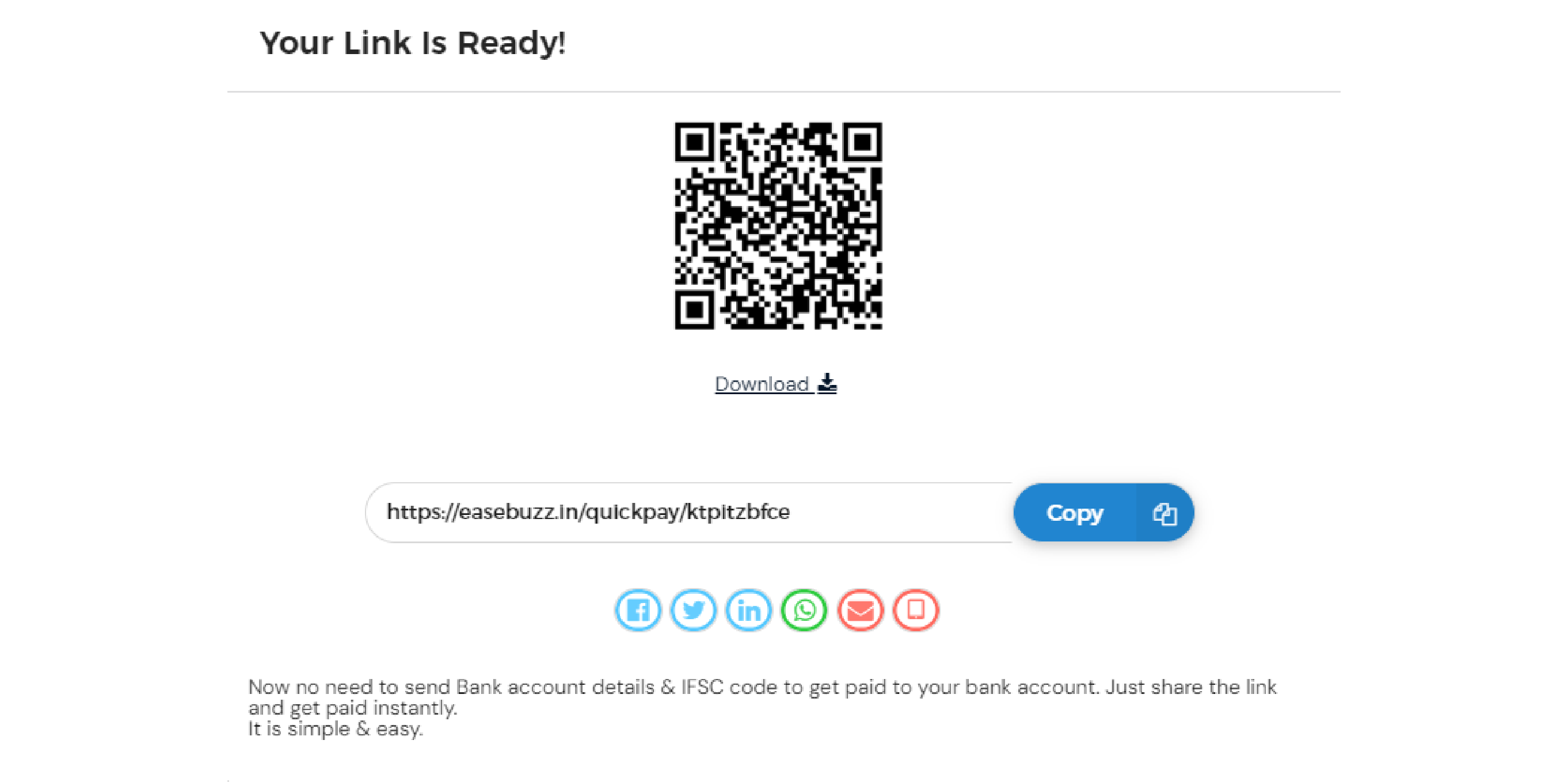 Experience the ease and efficiency of our UPI Payment Link Generator, designed to enhance your payment collection process. Start utilizing this user-friendly tool today!
Conclusion:
Beyond being a convenience, the payment links have transformed into a crucial requirement. Embracing payment links offers businesses the advantage of secure transactions, enhanced customer satisfaction, and broader market reach, positioning them at a competitive edge in the digital economy.
FAQ's
1. How does UPI link generator simplify payments?
A free UPI payment link generator is a tool designed to simplify payment collection. It empowers users to craft unique links that, when shared, allow direct payments to their UPI ID. This streamlined process eliminates the need to share personal details or bank information.
2. How to send UPI payment links?
To send a UPI payment link, access your UPI payment app, choose the option to create a payment link, input payment details, and effortlessly share the generated link via messaging, email, SMS, or your preferred communication platform.
3. Which free UPI link generators are available?
Indeed, several free UPI payment link generators exist, including Easebuzz's offering. An exemplary provider of payment gateway solutions in India, Easebuzz presents a free UPI payment link generator tool. This versatile tool enables users to swiftly create and share payment links, facilitating quick and hassle-free transactions with customers or clients.
4. How to get UPI links and QR code?
For getting UPI payment links and QR codes, consider utilizing the services of a payment gateway provider like Easebuzz. The process involves signing up, creating a product or service, generating the desired link or QR code, and sharing it with your customers, ensuring smooth and prompt payments.
5. How to create UPI links easily?
Creating a UPI payment link is straightforward. Whether through your UPI payment app or a payment gateway service, initiate the creation process, input the required payment specifics, and generate the link. Your customers can then utilize various payment methods for swift and convenient transactions.
6. How to generate UPI payment links?
A UPI payment link is a secure URL, streamlining money transfers via UPI. To generate such a link using a UPI app, follow these steps:
Launch the UPI app.

Navigate to the Send tab.

Enter the recipient's UPI ID or phone number.

Specify the amount.

Click the Generate Link button.