Case Study
Easebuzz payment solutions helped bbdaily and bbinstant to improve wallet based checkouts by 23%
Bigbasket is India's largest online food and grocery supermarket with over 50,000 products and over 10,000 brands and caters to over 60 Indian cities via mobile app and website. Customers can order groceries and get them delivered to their homes through bbdaily and bbinstant.
Business Objective / Problem Statement -
bbdaily and bbinstant offer over 50,000 products to their customers and operate on wallet based payment system to collect payments. Their objective is to improve wallet adoption, increase transaction volume, and order ticket size through bbwallet.
Bigbasket needed a payment gateway that could seamlessly integrate with bbdaily and bbinstant wallet with coupon features like bank/ card offers and cashback coupons to increase their wallet adoption and payment process.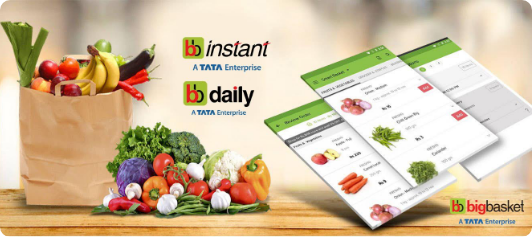 Comprehensive Solution -

Easebuzz offered Bigbasket an API-based payment solution suite with a discount coupon engine, seamless payment gateway and refund management to manage bbwallet payment acceptance.
Easebuzz payment solution helped bbdaily and bbinstant increase their bbwallet adoption through cashback coupons and improved

order ticket size value by 15%, and transactions through the wallet increased by 23%.
Customers of bbdaily and bbinstant can load money into their bbwallet using Easbuzz Payment Gateway and can avail of coupons while paying on the checkout page through bbwallet.
Products Offered-

Payment Gateway

Discount coupon Engine

Refund management
Benefits Realised-

Multiple payment modes to load money in bbwallet, including Debit Card, Credit Card, Net Banking, UPI and Wallets

Creating, managing, and customising coupons through the discount system

Define discounts as per the payment mode and bank

Reduction in checkout dropouts and increase in customer satisfaction

Efficient refund handling including instant refunds and grievances to increase customer experience

Customer behaviour analysis through Easebuzz dashboard that helped in optimising business decisions
Impact Created-
Increase in order ticket size value

Increase in bbwallet adoption
What customers say about us-
The development team at bigbasket found Easebuzz payment solutions easy to use. The service quality is awesome and helped us save on the cost of operations. Easebuzz brings value in terms of customer satisfaction with its high success rates in processing payments and also offered seamless integrated APIs.
George Francis
Marketing Lead - bbdaily
Secured and compliant with PCI-DSS Level 1

Seamless integration with Tally and other ERPs