Easebuzz Overview
FeesBuzz- A core product of Easebuzz provides a reliable and consistent platform for educational institutions to meet all of their changing needs. This platform is created to assist schools and universities in providing better learning payment processing outcomes, more precise insights for promoters, and time-saving automation for administrators.
Overcome the challenges of payment processing by adopting digital payments in the education fraternities
Digital payment in education is in the sunrise stage and has a lot of potentials. There are challenges in the industry where sensitizing parents and students to digital payments is necessary and the first step in making education a digital-first sector. Apart from it, complexity of reporting, lack of clarity of financial transactions owing to manual processes, failure to create payrolls, failure to delete those leaving the system from payroll, and the lack of security are challenges that need attention.
With value-added services offered by FeesBuzz, schools and colleges can reduce administrative effort and allow stakeholders to focus instead on higher-value activities. The use of excel for calculation of fees and raising manual invoices increases resource burdens. There is a need to enforce a structure that will improve the monitoring of day-to-day activities of the payment system.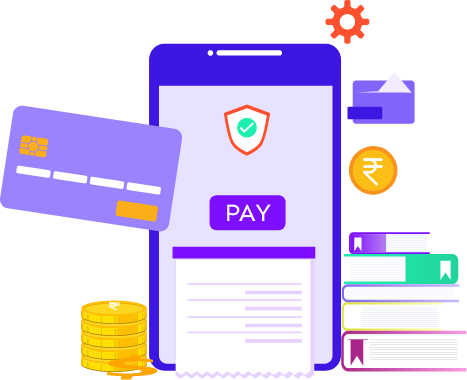 Easebuzz composes payment services for greater satisfaction among both providers and learners
Easebuzz offers solutions and services that are answers to all the questions related to payment and payment processing. It eliminates all the traditional approaches taken by the educational sector for payments. The payment aggregator offers payment services where institutes can collect fees on time without any manual intervention, raise automated invoices, etc.
Alleviate the burden of chasing payments

By automating the fee management process, universities can receive timely payments. It enables the set-up of fee management functions applicable to departments within the institute. The module offers flexibility to set-up fee heads and fee structures as applicable to courses across all the departments in the institute, fee concessions, scholarships, etc.

Customize registration form for institutes

Let students register for their next school term online. Assure a speedy process of registration, with Easebuzz. With our online school registration form, you eliminate paper forms and protect student data. If you have new entrants resuming at your school this session, Easebuzz turns out to be the deal-breaker.

Capture analytics for measurement of ROI

The data can only be analyzed if there's a certain amount of user engagement on your business account. Easebuzz analytical tools present metrics in different forms such as lists, pie charts, bar graphs, spreadsheets, and more, that allow you to see how your institute is performing.

Measure student data to scale registrations and launch customized marketing campaigns

With Feesbuzz services, you can gather information on where students stand in their learning and the progress that they have made in the process. This can be the key to designing customized strategies for the further improvement of teaching and learning.
School payments simplified with our intelligent payment solutions
Feesbuzz is the premier billing management software for schools, universities and institutes. A high-quality payment software to guide parents to better organize and meet fee deadlines at ease.
One-stop school management system with an integrated online payment and billing system
Parents, students, and institutes need a one-stop school system with an integrated online payment and billing system to help manage school payments. Schools will be able to effectively teach young minds if they have a straightforward, effective, and low-cost system of handling payments. Feesbuzz also comes with installment wise fees collection for the ones who want the payment to be made in installments.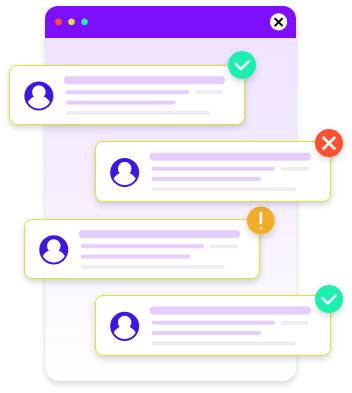 Track admissions on a single dashboard- A central hub for your applicants' end-to-end admission journey
Say goodbye to a hodgepodge of digital windows and gateways that lead to a poor student experience and make them lose interest, impacting your enrolments, and the brand reputation of your institution. Stay updated on admissions and admission fees and make informed business decisions through our detailed insights and real-time reports.
Different payment modes
Students can view their payment history with downloadable receipts for a hassle-free reconciliation or possible reference anytime. Give your students every possible payment option with the Easebuzz payment suite that accepts 100+ payment modes including debit cards, credit cards, wallets, and UPI.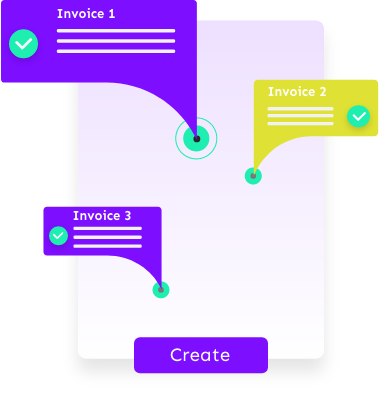 Easy and automatic GST compliant invoicing
Automatically generate reports, receipts, and invoices for payment transactions by simply entering the received amount details. Easebuzz payment platform can be useful to create and computerize custom invoices online and record transactions, respectively.
More payment capabilities to cater
Empower your students with a seamless, personalized experience that bolsters their decision to join your institution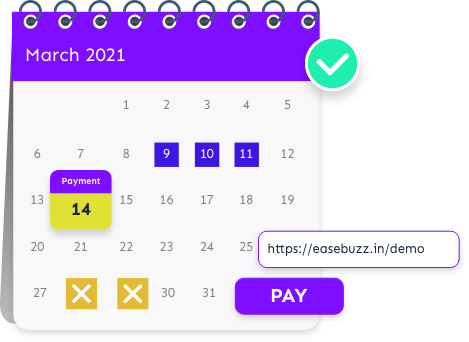 Why Easebuzz ?
Easebuzz is a payment aggregator focused on providing value added payment services to schools and universities and missioned to accelerate business growth by building a smart payments platform.

We offer expertise in solving complex business problems involving payments like Split Payments, Auto Recurring Payments (eNACH /paper-eManadate/UPI2.0), Auto refund on split transactions, Subaggregator Model, Bridgebuzz, Easebuzz Capital.
Multimode payment

We provide a seamless solution that works perfectly across any channel - mobile, desktop, or mobile-web and optimized across all device formats.

Effortlessly manage money flow

With Easebuzz, payment acceptance and payouts to vendors and sellers is done with a single click. It is possible for schools and universities to effortlessly handle end-to-end money flow.

Avoid fraud

With PCI DSS compliance and stringent third-party audits, Easebuzz provides robust security on our payments platform and takes care that the students' data is not leaked.