Easebuzz Overview
When it comes to managing payments, Easebuzz recognizes that speed and ease of use are the most important factors. We assist ecommerce platforms in gaining access to and managing payments, refunds, transfers, subscriptions, invoices, and a variety of other transactions. By joining hands with Easebuzz, owners of ecommerce platforms can gain real-time data and insights to help them make better business decisions, as well as monitor crucial statistics and generate customisable settlement and reconciliation reports.
Smart and flexible services can help you overcome complex payment processing problems
Both online merchants and customers expect selling and buying to be simple, efficient, safe, and secure. Using vanilla solutions like banks and payment processors makes it difficult and tedious to manually check every transaction when you are trying to scale an ecommerce business. However, this isn't the end, there's another potential obstacle to consistent cash flow and reliable payouts; increasing unsuccessful transactions.
Easebuzz offers fast, reliable payments solutions that allow your ecommerce business to enjoy the most convenient and secure payment solution. It offers auto reconciliation, auto suggestion on check out page for cross selling and review suggestions on websites on top of automation marketing reminders to customers.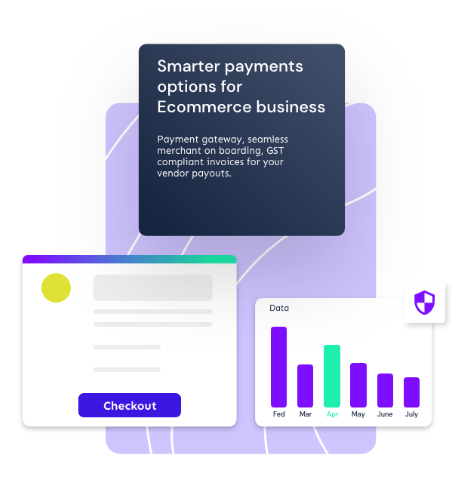 Smarter payment options can maximize conversions
Payment Gateway APIs
Our payment solution allows businesses to manage end-to-end payment processing, from seamless checkouts to accepting online payments.
Quick On boarding
Businesses can verify KYC, as well as ensure compliance with fraud prevention requirements for vendors and retail partners.
Offer next-generation contactless payment experience
Your customers deserve the best possible payment experience, Easebuzz offers 100+ payment options, easy integration, zero setup fee, and robust security.
Personalised payment acceptance from customers
Payment Link Solution allows businesses to create and share payment links on the go via email, SMS, or Whatsapp. This makes it easy and secure for customers to pay seamlessly and securely.
Robust Dashboard
You can use this dashboard to keep track of all your payments flow, It features real-time analytics, customisable reports.
Instant settlement
All transactions are processed in real-time in a virtual merchant account. You can deposit this directly into your bank account every day without waiting.
Seamless integration with internal softwares
Reconciliation can be automated using our webhook APIs within your own ERP, CRM or software solution and can start in a matter-of-minutes.
Recurring payments solution with partial or full payments
Make use of GST compliant invoices for your vendor payouts. This can be added to a payment link solution, which could be shared with customers via email or SMS.
Engage your customers
With personalized offers and discount codes, create urgency and target the right customer.
Easebuzz comes with value-added payment solutions tailored to Ecommerce business
Collect your payments without a website
Start your online shop in minutes with easy setup of products and price and discount offers as a value add service.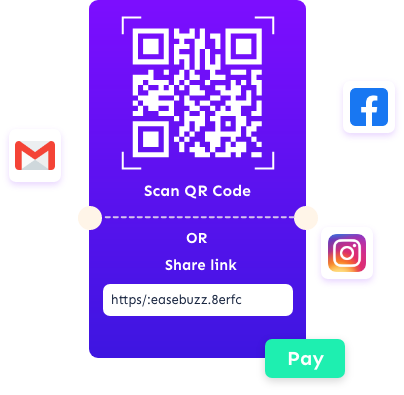 Simplest way to accept payments
We offer businesses to accept payments via link sharing that is the easiest and fastest way for both customers and merchants. The payment collection is done either via the payment link or a QR code. It requires no coding and you can share the link as many times as you want on social media, in emails, or any other channel. Payment links also offer on-the-spot payments with faster transaction rates improving the overall customer experience contributing to an increase in revenue.
Insta Collection for vendors and customers
Businesses can generate virtual payment addresses in the form of UPI IDs and virtual bank accounts. These details can then be shared with the customers to accept payments through RTGS, NEFT, IMPS and UPI modes. All these virtual UPI IDs and bank accounts are linked to the main account that is registered with Easebuzz.
Customised payment collection of occasions with marketing analytics
In seconds, you can create a form and get it activated with a payment solution that supports 100+ payment options. Built-in analytics drive data over UTM Links which will enable you to measure source-wise outcomes of your digital marketing campaigns.
A powerful yet simple solution to track time, manage expenses and invoices
A feasible dashboard that allows you to adapt to the changing landscape of e-invoicing. With invoice payment solutions, the platform allows your customers to pay online quickly and easily. Small to medium-sized businesses will find a great partner in B2B billing. It's a complete API solution that allows you to quickly generate e-invoices with 100% security and end-to-end support.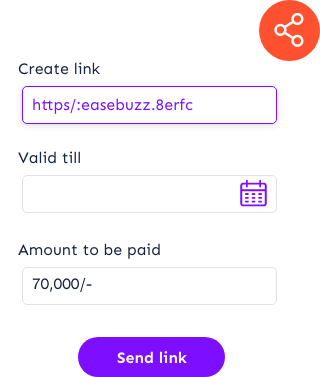 Cutting- edge API solution to manage subscription based payments
It makes it easier for businesses to share and create payment links while on the move and automate reconciliation and reminders via SMS, Email and IVR bot calls.
Why Easebuzz ?
Easebuzz is a payment aggregator focused to provide value added payment services to online businesses and accelerate growth by building a smart payments platform.

We offer expertise in solving complex business problems involving payments like Split Payments, Auto Recurring Payments (eNACH /paper-eManadate/UPI2.0), Auto refund on split transactions, Subaggregator Model, Bridgebuzz, Easebuzz Capital.
Solving complex ecommerce problems involving payments

Split Payments, Auto Recurring Payments (eNACH /paper-eManadate/UPI2.0), Auto refund on split transactions, Subaggregator Model, Bridgebuzz for Marketplace, Easebuzz Capital.

Ensuring security to your payments

Easebuzz ensures strong security for our payments platform with PCI DSS compliance. It is compliant with the requirements of ISO 27001:2013 about operating its information security management system.

Unique offering as per your scalable demand

Easebuzz comes with unique offerings while reducing their marketing cost, such as increasing payment flexibility, communication, visibility, and visibility over transactions, while providing seamless user experience. It can be used to collect, disburse, organize, or distribute payments for your ecommerce platform.