 Aspirant Ambassadors
Overview: The Aspirant Ambassador program is a specialized initiative by the Shikhar Dhawan Foundation, envisioned for individuals who are keen on creating a social impact and dedicating themselves to volunteerism within the heart of India. Membership Fee: 499 INR Benefits: Exclusive Membership Card: Strengthen your affiliation with our community and showcase your commitment to social change. Networking Opportunities: Connect with a vast network of individuals who share your zeal for NGO membership and the broader vision of fostering change in India. Letter of Recommendation: In acknowledgment of your dedication and impactful contributions, you will have the opportunity to earn a valuable Letter of Recommendation, further solidifying your commitment to the cause. Membership Duration: 3 months
Know More
Community Advocates
Overview: For those who aspire to leave an indelible mark on the Indian community, the Community Advocate membership tier is the path forward. Membership Fee: 1,299 INR Benefits: Official Membership Card: Wear your pride and passion for community service. Exclusive T-shirt: Showcase your role as a Community Advocate with our specially designed apparel. Tax Exemption Certificate: As a token of gratitude for your support, avail a certificate to claim tax exemption. Community Engagement: Immerse yourself in a vibrant ecosystem of individuals fervently working towards volunteering with NGOs in India. Membership Duration: 3 months
Know More
Change Champions
Overview: The Change Champions tier is tailored for stalwarts who are unwavering in their mission to bring about a lasting transformation in India. Membership Fee: 4,999 INR Benefits: Official Membership Card: A symbol of your dedication to the larger mission. Exclusive T-shirt and Merchandise: Flaunt your allegiance with quality merchandise and apparel. Tax Exemption Certificate: Acknowledging your substantial contribution with a certificate for tax benefits. Alike Minds, One Mission: Become part of a vibrant and dynamic community of individuals who are fueling positive change via their NGO memberships. Membership Duration: 1 year
Know More
Join hands with us, and together, let's build a better future for India.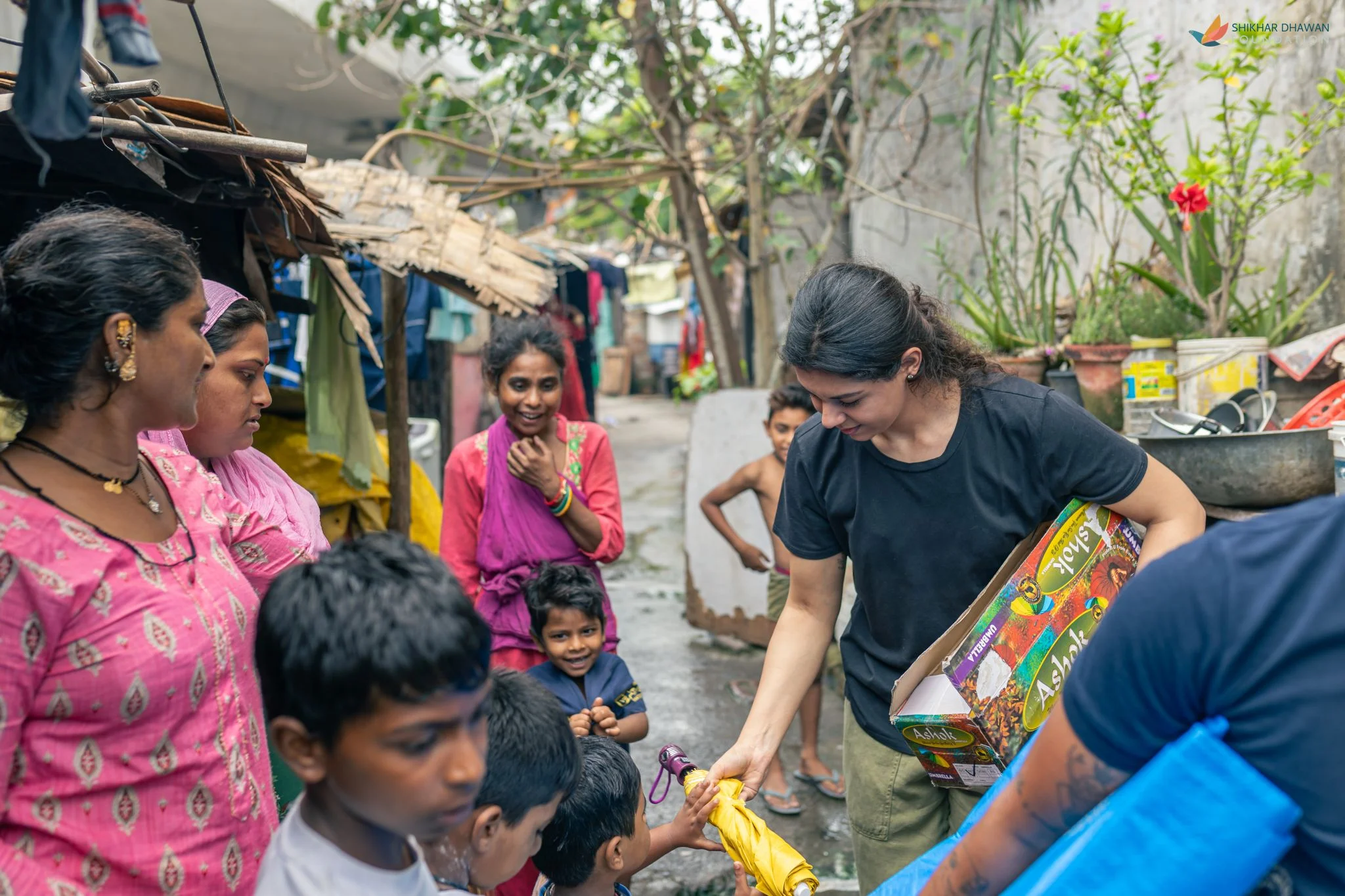 Your commitment to change starts here. With every membership tier you choose, you not only empower yourself but also further the reach and impact of the Shikhar Dhawan Foundation. Align with our mission and make a tangible difference.


Shikhar Dhawan Foundation Membership Tiers
1. Aspirant Ambassadors:
Overview:
The Aspirant Ambassador program is a specialized initiative by the Shikhar Dhawan Foundation, envisioned for individuals who are keen on creating a social impact and dedicating themselves to volunteerism within the heart of India.
Membership Fee: ₹499 INR
Benefits:
Exclusive Membership Card: Strengthen your affiliation with our community and showcase your commitment to social change.
Networking Opportunities: Connect with a vast network of individuals who share your zeal for NGO membership and the broader vision of fostering change in India.
Letter of Recommendation: In acknowledgment of your dedication and impactful contributions, you will have the opportunity to earn a valuable Letter of Recommendation, further solidifying your commitment to the cause.
Membership Duration: 3 months
2. Community Advocates:
Overview:
For those who aspire to leave an indelible mark on the Indian community, the Community Advocate membership tier is the path forward.
Membership Fee: ₹1,299 INR
Benefits:
Official Membership Card: Wear your pride and passion for community service.
Exclusive T-shirt: Showcase your role as a Community Advocate with our specially designed tshirt.
Tax Exemption Certificate: As a token of gratitude for your support, avail a certificate to claim tax exemption.
Community Engagement: Immerse yourself in a vibrant ecosystem of individuals fervently working towards volunteering with NGOs in India.
Membership Duration: 3 months
3. Change Champions:
Overview:
The Change Champions tier is tailored for stalwarts who are unwavering in their mission to bring about a lasting transformation in India.
Membership Fee: ₹4,999 INR
Benefits:
Official Membership Card: A symbol of your dedication to the larger mission.
Exclusive T-shirt and Merchandise: Flaunt your allegiance with quality merchandise and apparel.
Tax Exemption Certificate: Acknowledging your substantial contribution with a certificate for tax benefits.
Alike Minds, One Mission: Become part of a vibrant and dynamic community of individuals who are fueling positive change via their NGO memberships.
Membership Duration: 1 year
We warmly welcome you to join our mission, whichever tier resonates with your aspirations. Together, we can make a difference.
Terms and Conditions for Membership with Shikhar Dhawan Foundation

International Residents:

● For International Residents, please contact us at
contact@shikhardhawanfoundation.com for membership inquiries.

● We extend our warm gratitude for your interest in supporting the Shikhar Dhawan
Foundation.
Due to the substantial costs associated with shipping, we regret to
inform you that gifts, including physical Membership Kits, are not provided to
international members. Instead, the funds that would be allocated for shipping will be
redirected towards critical social welfare initiatives in India. We deeply appreciate
your understanding and dedication to our cause.

Membership Kit Delivery:
● Membership Cards are digital, and any physical kit entitled to a member will be
dispatched and is expected to reach them within a month from the date of enrollment.
Active Working Members:
● All categories of memberships are considered to designate members as active
working participants of Shikhar Dhawan Foundation. They can be contacted in case
of any assistance required for community outreach and social welfare projects.
Payment and Donation Issues:
● In the event of encountering errors or glitches during membership payments and
donations, we recommend clearing your browser's cache, temporary files, and
browsing history. If issues persist, please consider transferring the funds directly into
our bank account through NEFT/RTGS.

contact us at
contact@shikhardhawanfoundation.com for account details.

Cheque / DD Payments:
● Cheque or Demand Draft payments can be sent to the following address:
Shikhar Dhawan Foundation
Magnum Tower 1, 8th Floor,
Golf Course Ext Rd, Sector 58,
Gurugram, Haryana 122011

Membership Validity Check in Descriptions:
The validity of memberships can be checked in the respective membership descriptions on
our website.

Code of Conduct:
● All members are expected to adhere to a code of conduct that emphasises respect,
inclusivity, and professionalism in all interactions related to Shikhar Dhawan
Foundation.

Volunteer Commitment:
● Members who volunteer are encouraged to commit a reasonable amount of time to
supporting the foundation's initiatives, as specified in their volunteer role.

Intellectual Property Rights:
● Any content, images, or materials produced by members during their involvement
with the foundation are the property of Shikhar Dhawan Foundation, and may be
used for promotional or educational purposes.

Liability and Indemnification:
● Shikhar Dhawan Foundation is not liable for any injury, damage, or loss incurred
during volunteer activities. Members agree to indemnify and hold the foundation
harmless from any claims or liabilities.

Conflict of Interest:
● Members are expected to disclose any potential conflicts of interest that may arise in
the course of their involvement with the foundation.

Complaints and Grievances:
● A process for members to report complaints or grievances will be provided. The
foundation will address such reports in a timely and confidential manner.

Termination or Suspension of Membership:
● Shikhar Dhawan Foundation reserves the right to terminate or suspend a member's
membership in the event of violation of terms, misconduct, or any action deemed
detrimental to the foundation's mission and values.

Governing Law and Jurisdiction:
● These terms and conditions are governed by the laws of India. Any disputes will be
resolved in the courts of Gurugram, Haryana.

Severability Clause:
● If any part of these terms and conditions is found to be invalid or unenforceable, the
rest of the agreement remains in effect.

Notices:
● Official communications and notices will be sent to members via email or through the
Shikhar Dhawan Foundation website.

Updates to Terms and Conditions:
● Shikhar Dhawan Foundation reserves the right to update or modify these terms and
conditions at any time without prior notice.

Privacy Policy:
● All personal information provided by members will be kept confidential and will not be
shared or sold to third parties. For more details, please refer to our Privacy Policy
https://shikhardhawanfoundation.com/privacy-policy/.

Contact Us:
For any questions, concerns, or clarifications regarding these terms and conditions, please
reach out to us at contact@shikhardhawanfoundation.com.